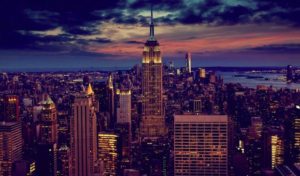 It's a frantic schedule even for this New Yorker! The city, home to over 8.5 million people, contains so much to see and do, you can barely scratch the surface on your typical four- or five-day visit. (But then again, I don't think even a four-month trip would be enough to see NYC!)
NYC, a city forever in flux, is impossible to "see" in one visit. You just have to resign yourself to that fact, unless you move here (and maybe not even then), you'll only barely scratch the surface! However, there are ways to make the most of the limited time we have. So, as I get ready to leave NYC after living here for 3.5 years, I want to give you my suggested four-day itinerary for your next visit here:
Day 1
Statue of Liberty/Ellis Island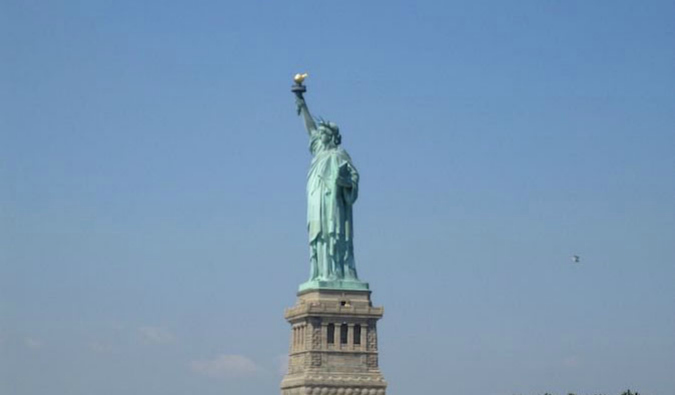 Though the line for the ferry from Battery Park is long, if you get there early, you can avoid most of it. (Come late and you'll have to wait a few hours.) The Statue of Liberty is spectacular to see up close (she's as big as you imagine), but the real highlight of this combo is Ellis Island, where you can learn about the immigrant experience and get a sense of the people who helped build NYC (you'll even find my family's name inscribed on the wall!). There's such a great sense of history there that you can't help but to be impressed.
Tip: If the line's too long and you don't want to wait, take the free Staten Island ferry for photos of the statue and harbor.
Battery Park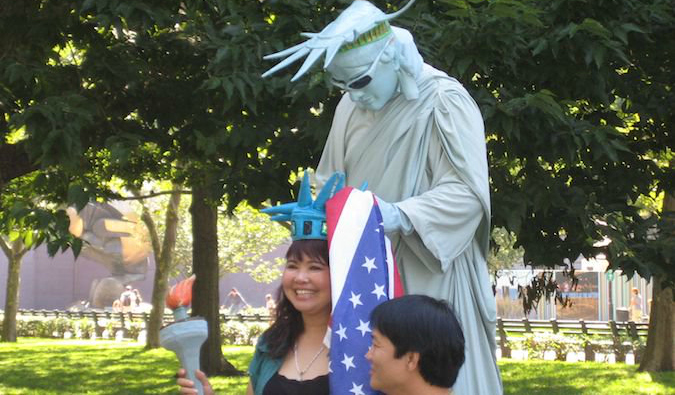 Named Battery Park for the old batteries (cannons) that defended the city, stop here for music and street performers, people-watching, relaxing, and all other park-related activities. You can also explore the ruins of the old fort that kept watch over the city. Battery Park is large and hectic, but I still love walking through here. There are tremendous views of the harbor, too.
Wall Street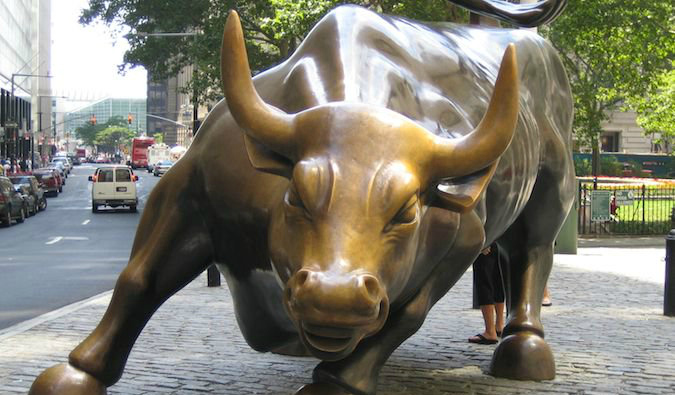 Take a photo with the famous bull and then walk to Wall Street and see where all those bankers destroyed the economy. There's heavy security in the area, but you can sit and watch people whiz in and out of buildings on their way to cause some other financial disaster.
Federal Hall


One of the most overlooked museums in the city sits across the street from the NY Stock Exchange (NYSE). Federal Hall, built in 1700, is where George Washington took his oath of office (you can see the Bible he was sworn in on!), was the first capitol building of the US, and was the site of the US Customs House in the late 1700s. It's one of my favorite attractions in the area. I especially love the old vaults of Customs House. I highly recommend you visit, plus it's small and doesn't take long.
Museum of American Finance


Down the street from NYSE and Federal Hall is the Museum of American Finance. Housed in a historic bank building on Wall Street (of course!), it has permanent exhibits on the financial markets, money, banking, entrepreneurship, and Alexander Hamilton (the founder of the US financial system). If you want to understand the workings of what happens on Wall Street, this is a perfect place to start. Entrance is $8 USD (there are discounts for students and seniors).
Trinity Church


Trinity Church is one of the oldest churches in America. The original building burned down in 1776, but the current church is still beautiful, with an ornate gothic style structure. The church is most famous for its colonial graveyard, where you'll find many famous Americans, including Alexander Hamilton, one of America's founding fathers.
World Trade Center & 9/11 Memorial and Museum


The recently opened "Freedom Tower" gives you a panoramic view of the city, and there is also a lot of information about the 9/11 terrorist attacks. On the elevator up, you can also see images of the historical development of NYC. At the bottom of the tower is a park commemorating the victims of the attacks along with an extensive museum. The museum houses moving exhibits about the significance of 9/11. For an additional fee (on top of the entrance fee), there are guided tours.
Click here to get my huge, detailed insider's guidebook to NYC and plan your ultimate visit there! (I live in NYC so I know it well!) (I live in NYC so I know it well!)
Day 2
Brooklyn Bridge


Right near City Hall (see the next entry), the Brooklyn Bridge offers an easy 25-minute walk into Brooklyn and the waterfront park on the other side. Stopping to take photos and meandering along the way will make the walk about 40 minutes. You get a lot of wonderful views of downtown as you make your way across (and especially from the park). I enjoy doing this walk at night, when downtown Manhattan is all lit up.
City Hall


New York's City Hall is a great piece of historic architecture and has a beautiful little park that's filled with office workers during lunch (as well as a circular tablet about the site's history). To learn about the building's history, art, and architecture, take one of the tours. This way, you'll be able to see the landmarked rotunda, city council chamber, Governor's Room, and the City Hall Portrait Collection. Pre-reserved tours are typically offered for groups (10–20 people) on Mondays and Tuesdays at 10:30am and for individuals on Thursdays at 10am. There are also first-come, first-served tours on Wednesdays at 12pm.
Empire State Building


After you finish up with lower Manhattan, jet up to this historic landmark in New York City. The 1930s art deco interior is beautiful, and the view from the top is breathtaking. You can get a real feel for how densely populated New York is as you stare out at the city. Get here early or during lunchtime to avoid the lines and tour groups.
Grand Central Terminal


Grand Central Terminal is the city's historic train station. It was going to be torn down in 1975 but was saved by Jacqueline Kennedy, who raised money for its preservation. There are free historical tours on Wednesdays. I love coming to the main concourse and looking up at the "stars" in the ceiling and people-watching as everyone races to and fro. All those people — where do they go? What do they do? Also, there's an amazing eatery in the basement called the Grand Central Oyster Bar & Restaurant. And for fancy (and expensive) cocktails, visit the Campbell Apartments and step back into the 1920s (dress code enforced). The space was once the office of John W. Campbell, a member of the New York Central Railroad's board of directors and finance tycoon from the 1920s.
Rockefeller Center


This area is always filled with hustle and bustle. Wander around Rockefeller Center to see where they film The Today Show, shop, snack, and take the elevator to the "Top of the Rock" for another bird's-eye view of the city (which I personally think it better than the Empire State Building, since from the top of here you can get that building in your picture too!).
Times Square


No matter when you go to Times Square, it will be packed with people (usually other tourists). There are pedestrian areas where you can sit and hang out. If you aren't shopping or eating or seeing a show, there isn't much to do in the area (and no New Yorker hangs out there), but it's still a fabulous place to people-watch for a few minutes from the top of the red steps of the TKTS kiosk.
Click here to get my huge, detailed insider's guidebook to NYC and plan your ultimate visit there! (I live in NYC so I know it well!) (I live in NYC so I know it well!)
Day 3
Central Park


The perfect way to relax in the city and leave the crowds behind is to spend the day in Central Park. It's free, there are lots of paths to walk (or run), bike lanes, lakes to row in, and a zoo. Since the park covers over 150 square blocks, it's easy to spend hours wandering around. During the summer months, there are often free concerts and theater productions (line up early for tickets to Shakespeare in the Park). From the late spring to the early fall, there are free guided walks run by the parks service on Saturdays at 11am. I'm a big fan of laying out in Sheep's Meadow on a hot, sunny day with a book, some food, and a bottle of wine.
Several excellent museums can be found in or on the edges of Central Park:
The Metropolitan Museum of Art


The Met is one of the biggest museums in the world, and if you only see one museum in New York, I recommend this one. It has a wide array of art, historical artifacts, photographs, and other exhibits. There's even a real Egyptian tomb in here! I like its expansive impressionist and Greek exhibits. It's chaotic and filled with people, especially on the weekend, but since it is so big, you can usually find some quiet spots away from the crowds. Budget a lot of time as a few hours won't do this place justice.
Budget tip: The $20 USD "fee" is really just a suggested donation so you can pay whatever you want.
American Museum of Natural History


Made even more famous by the Night at the Museum movies, this museum also requires a lot of time. The exhibits on nature, human history, and marine life are interesting and detailed, so I wouldn't try to rush your visit. My favorite is the one on the origin of humans. Learning about how we came to be is fascinating. Also, don't skip the section on space (because space is awesome!) at the Hayden Planetarium, which is run by science god Neil Degrasse Tyson. They have really detailed exhibitions on the origin of the universe.
Budget tip: The "fee" here is also suggested donation so you can pay what you wish.
The Frick Collection


This collection features paintings by major European artists (lots of Dutch masters here) as well as 18th-century French furniture and Oriental rugs. You have to really love Dutch artists to want to spend time here (I do) but be sure to visit their website because they do a lot of wonderful temporary exhibits featuring famous works of art. Admission is $20 USD, with discounts available to students and seniors.
Budget tip: Visit Sundays between 11am and 1pm and the entrance fee is "pay what you wish."
The Guggenheim Museum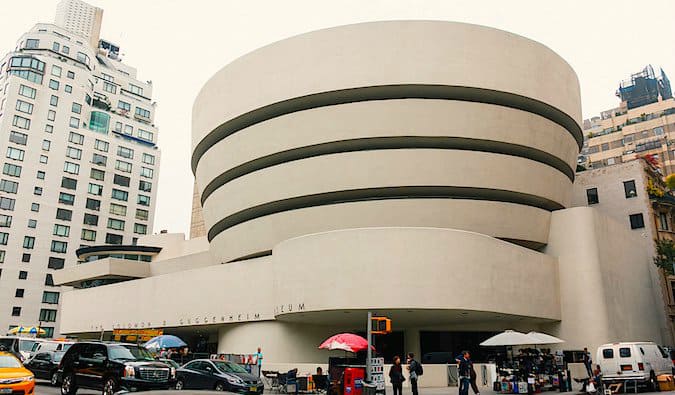 This museum is home to a renowned collection of impressionist, post-impressionist, early modern, and contemporary art. The cylindrical museum (designed by Frank Lloyd Wright) is considered one of the 20th century's most important architectural designs. It's one of my favorite buildings (and museums) in the city. Admission is steep ($22 USD).
Budget tip: Saturday nights (5:45–7:45pm) you can pay what you wish.
Broadway Show


You can't go to New York City, the theater capital of the world, without seeing a show. Current highlights and my favorites include:
The Lion King
Book of Mormon
Wicked
An American in Paris
Les Misérables
Jersey Boys
Finding Neverland
Fiddler on the Roof
Hamilton
Something Rotten!
You can find discounted theater tickets at the TKTS offices around the city (Times Square, South Street Seaport, and downtown Brooklyn) for shows that day. They also have an app where you can see what they offer too!